GET TO KNOW NAFLD AND NASH​
Fatty liver disease

is when too much fat is stored in your liver

Fatty liver disease in people who do not abuse alcohol is called

N

on

A

lcoholic

F

atty

L

iver

D

isease or NAFLD

N

on

A

lcoholic

F

atty

L

iver

D

isease is very common in the United States and can lead to serious complications

N

on

A

lcoholic

F

atty

L

iver

D

isease is most common in people with other conditions like obesity or diabetes 
Definition & Facts
In this section:
What is NAFLD?
Nonalcoholic fatty liver disease (NAFLD) is a condition in which excess fat is stored in your liver. This buildup of fat is not caused by heavy alcohol use. When heavy alcohol use causes fat to build up in the liver, this condition is called alcoholic liver disease.
Two types of NAFLD are simple fatty liver and nonalcoholic steatohepatitis (NASH). Simple fatty liver and NASH are two separate conditions. People typically develop one type of NAFLD or the other, although sometimes people with one form are later diagnosed with the other form of NAFLD.
Simple fatty liver
Simple fatty liver, also called nonalcoholic fatty liver (NAFL), is a form of NAFLD in which you have fat in your liver but little or no inflammation or liver cell damage. Simple fatty liver typically does not progress to cause liver damage or complications.
NASH
NASH is a form of NAFLD in which you have hepatitis—inflammation of the liver—and liver cell damage, in addition to fat in your liver. Inflammation and liver cell damage can cause fibrosis, or scarring, of the liver. NASH may lead to cirrhosis or liver cancer.
Experts are not sure why some people with NAFLD have NASH while others have simple fatty liver.
How common are NAFLD and NASH?
NAFLD is one of the most common causes of liver disease in the United States. Most people with NAFLD have simple fatty liver. Only a small number of people with NAFLD have NASH. Experts estimate that about 20 percent of people with NAFLD have NASH.1
Between 30 and 40 percent of adults in the United States have NAFLD. About 3 to 12 percent of adults in the United States have NASH.1
Who is more likely to develop NAFLD?
NAFLD is more common in people who have certain conditions, including obesity and conditions that may be related to obesity, such as type 2 diabetes. Researchers have found NAFLD in 40 to 80 percent of people who have type 2 diabetes and in 30 to 90 percent of people who are obese.2 In research that tested for NAFLD in people who were severely obese and undergoing bariatric surgery, more than 90 percent of the people studied had NAFLD.3
NAFLD is more common in people who are obese.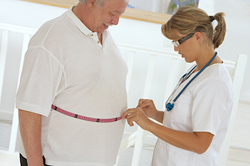 NAFLD can affect people of any age, including children. Research suggests that close to 10 percent of U.S. children ages 2 to 19 have NAFLD.4 However, people are more likely to develop NAFLD as they age.
While NAFLD occurs in people of all races and ethnicities, it is most common in Hispanics, followed by non-Hispanic whites.2 NAFLD is less common in African Americans.2 Asian Americans are more likely than people of other racial or ethnic groups to develop NAFLD when their weight is within the normal range.5
What are the complications of NAFLD and NASH?
The majority of people with NAFLD have simple fatty liver, and people with simple fatty liver typically don't develop complications.1
NASH can lead to complications, such as cirrhosis and liver cancer. People with NASH have an increased chance of dying from liver-related causes.3
If NASH leads to cirrhosis, and cirrhosis leads to liver failure, you may need a liver transplant to survive.
Studies also suggest that people with NAFLD have a greater chance of developing cardiovascular disease. Cardiovascular disease is the most common cause of death in people who have either form of NAFLD.6
[1] Spengler EK, Loomba R. Recommendations for diagnosis, referral for liver biopsy, and treatment of nonalcoholic fatty liver disease and nonalcoholic steatohepatitis. Mayo Clinic Proceedings. 2015;90(9):1233–1246.
This content is provided as a service of the National Institute of Diabetes and Digestive and Kidney Diseases (NIDDK), part of the National Institutes of Health. The NIDDK translates and disseminates research findings to increase knowledge and understanding about health and disease among patients, health professionals, and the public. Content produced by the NIDDK is carefully reviewed by NIDDK scientists and other experts.
The NIDDK and The NASH Facts™ Project would like to thank:
Anna Mae Diehl, M.D., Duke University Medical Center, and Brent A. Tetri, M.D., Saint Louis University
There are two kinds of

N

on

A

lcoholic

F

atty

L

iver

D

isease: simple fatty liver and NASH

NASH is short for

N

on

A

lcoholic

S

teato

H

epatitis

NASH can lead to serious health issues like fibrosis, cirrhosis, and even liver cancer